Liberty Line: QAnon's Distortion of a Legitimate Human Trafficking Problem, How 'COVID Generation' Risks Child Marriage and Forced Labour, and A Response to a NY Times Article by OUR
Hear from Callahan Walsh, a child advocate for the National Center for Missing & Exploited Children & learn how bank data analysis helps fight modern slavery
Good morning activists,
There's been a significant amount of controversy around California's SB-145 that was introduced by Senator Wiener and passed just last week. For details on this bill, see the LEGISLATIVE COUNSEL'S DIGEST below:
SB 145, Wiener. Sex offenders: registration.

Existing law, the Sex Offender Registration Act, requires a person convicted of one of certain crimes, as specified, to register with law enforcement as a sex offender while residing in California or while attending school or working in California, as specified. A willful failure to register, as required by the act, is a misdemeanor or felony, depending on the underlying offense.

This bill would exempt from mandatory registration under the act a person convicted of certain offenses involving minors if the person is not more than 10 years older than the minor and if that offense is the only one requiring the person to register.
The bill has been widely condemned by social media users and we found the article below quite helpful in unraveling our thoughts around the issue.
We'd love to know the opinions of our readers regarding this recent development!
---
Our "Why":
The United Nations defines human trafficking as any form of recruiting, transporting, transferring, harboring, or receiving a person by means of threat or use of force or other forms of coercion, abduction, fraud, or deception, for an improper purpose including forced labor or sexual exploitation.
600,000 and 800,000 people are trafficked across international borders annually and, of these, 80% are women or girls and 50% are minors. Trafficking exploits individuals in some of the most heinous ways imaginable, raking in an estimated $150 billion for traffickers. This effects men, women, and children, both globally and domestically.
For information on trafficking in your state, click here

For trafficking statistics in your country, click here
Our desire is that this newsletter would build and bring together a community that's fiery about this topic, informing individuals to action through the sharing of stories, initiatives, and people who are spearheading the counter-trafficking movement.
Social Media: Twitter | Linkedin | Instagram | Facebook
In a letter written by the late Edmund Burke,
The only thing necessary for the triumph of evil is for good men to do nothing.
And without further delay,
---
This Week..
ACTIVIST OF THE WEEK:
Laila Mickelwait
Laila Mickelwait is the Director of Abolition for Exodus Cry, Founder of the #Traffickinghub movement, and Founder of New Reality International. She received her Master of Public Diplomacy degree from the Annenberg School of Communications and the Dornsife School of International Relations at the University of Southern California in Los Angeles in conjunction with the U.S. Department of State. Mickelwait has made it her life's mission to fight against sex trafficking and the exploitation of women and young girls. She's presented at conferences, universities, corporate events and has advocated for legislative reform at the United Nations, and to policymakers in numerous countries, including Australia, Austria, Brazil, Canada, Hong Kong, Israel, Italy, Korea, Netherlands, Norway, Spain, Switzerland, the United Kingdom and the United States concerning commercial sexual exploitation including trafficking, prostitution and pornography. Laila's writing and speaking have been published in outlets such as The New York Post, BBC News, The Washington Post, The Guardian, and others. Laila Mickelwait and Traffickinghub.com started a petition to Shut Down Pornhub and Hold Its Executives Accountable for Aiding Trafficking. Join the over 2 million signees and have your voice heard, here.
👉To learn more about Laila's mission, check out an interview of her, here
---
FOR YOUR EYES:
FOR YOUR EARS:
---
FOR YOUR EYES: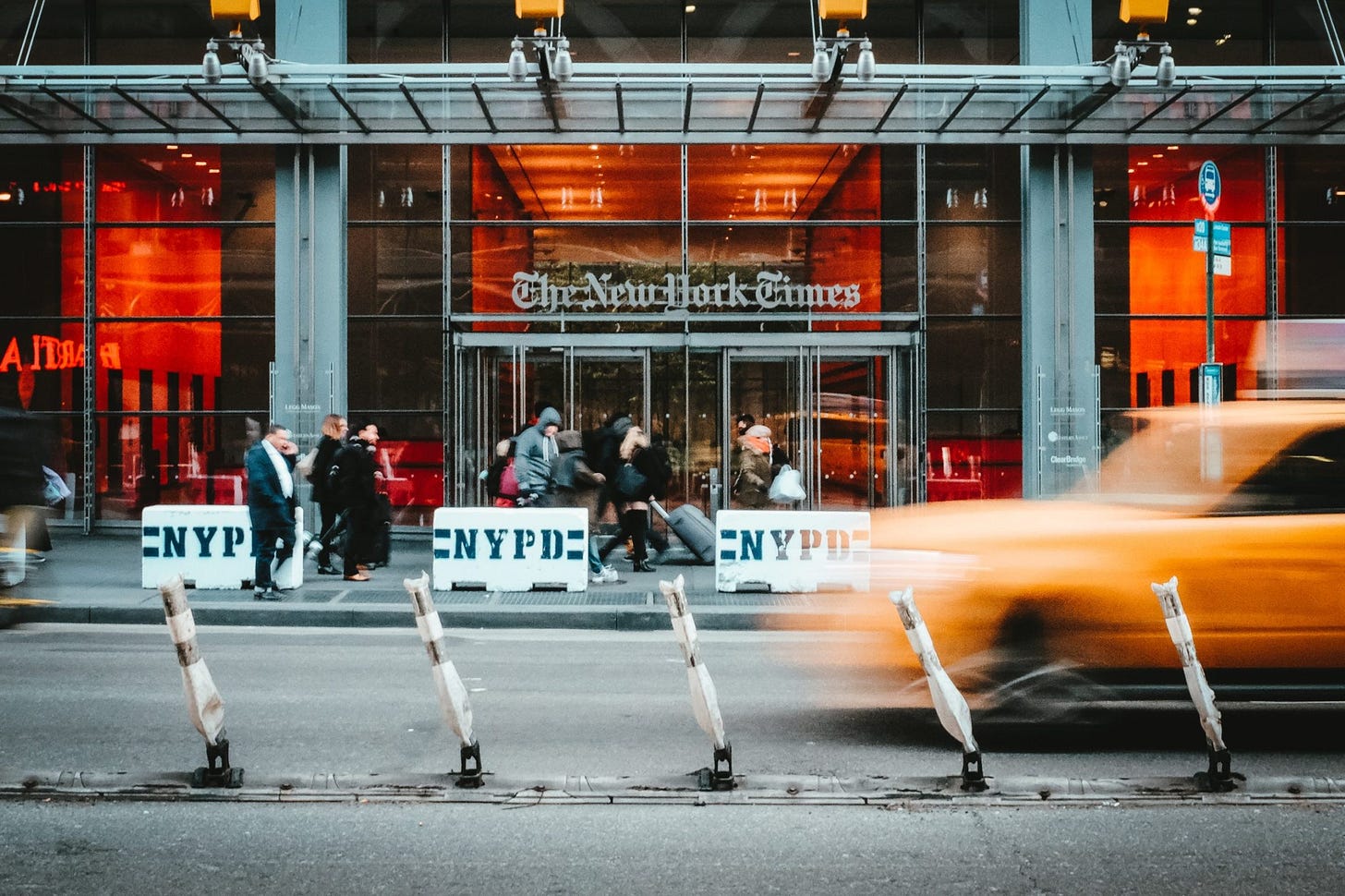 The New York Times Misses the Point: Not Preventing Children From Being Sexually Victimized Would Be the Real Disservice to Society: Operation Underground Railroads response to a New York Times article. A must read!
"One of the hundreds of cases the Times did not highlight was that of Bryan Earle Glant, 24, of Seattle. Glant, a well-resourced young man, was tried, convicted, and sentenced to nine years in prison on two counts of attempted first-degree rape of a child. Emails and text messages contained in his court record show Glant arranging through online communication to meet "Hannah," a police officer posing as a mother, to engage in sex acts with her two daughters, ages 6 and 11. Glant did not just discuss doing something online. His messages were not the mere unguided explorations of a young man. No. He acted, showing up at the agreed location with lubricant in his pocket. Imagine if police and their Net Nanny operation were not on the other side of the door that day. How would the lives of those 6- and 11-year-old children have been different?"
'COVID generation' risks child marriage, forced labour, ex-leaders warn: Lockdown measures due to Covid-19 have heightened the risk on our most vulnerable youth. What are our leaders planning to do to dissolve the threat?
"As lockdowns end, they urged governments to invest in catch-up programs to prevent irretrievable damage to children's futures. "We cannot stand by and allow these young people to be robbed of their education and a fair chance in life," said the letter signed by 275 former world leaders, economists and educationalists."
QAnon distorts legitimate human trafficking problem: Since the Epstein case, pandoras box has been opened to conspiracy theories around the problem of human trafficking and who could be involved in its atrocities. Celebrities like DeGeneres, Tiegen, and Oprah have been accused of playing a part in a supposed Hollywood pedophile ring linked to Jeffrey Epstein. What's the consequence of the perpetuation of misinformation online to the real fight against human trafficking in the U.S.?
"It's no longer about people reading information; they're also creating information," Neickarz said. "There are so many sources of information out there that it becomes difficult for many people to really understand what is worthwhile and what is not worthwhile and what is not credible."The notion of the citizen journalist is great, in theory," he said. "We love that people can put their ideas out there, but the danger is that a lot of these folks don't understand what it means to be a journalist and the ethics and what's valid information."
9 arrested in GA sex trafficking sting after 39 missing kids found safe across 7 states: Operations are ongoing in various states in an effort to locate missing kids who may be victims of sex trafficking. This approach is focused at a local level to locate missing children rather than a coordinated nationwide sweep. Operations such as Ohio's "Safety Net" allow agents to give undivided attention to finding endangered children, U.S. Marshals Public Information Officer Anne Murphy said.
"Asked to clarify the nature of what constituted a "missing" child in the effort — which was dubbed "Operation Not Forgotten" — Rivera said the optics of the word "missing" can be "pretty strong." Many if not all of the children located, he said, "were deemed at-risk when they ... ran away from [Division of Family & Children Services] custody and fell into that human-trafficking realm."
👉To read more on this topic, check out another article here
---
FOR YOUR EARS:
Cal Walsh and Protecting our Children: (podcast, 28 minutes)
"Dr. Sandie Morgan and Dave Stachowiak interview Callahan Walsh, a child advocate for the National Center for Missing & Exploited Children (NCMEC) and co-host of In Pursuit with John Walsh on Investigation Discovery. They discuss how COVID-19 has presented challenges and opportunities in the fight against child sexual exploitation and how we can make sure that kids are equipped with safe and smart decision making to prevent online exploitation."
👉Check out NCMEC's website here
How bank data analysis helps fight modern slavery: (podcast, 16 minutes)
"Many people exploited in work situations, don't realize they are victims. When nobody tells you about things like minimum wage and legal working hours, how can you be helped? One solution is to detect such cases proactively, so law enforcement doesn't have to wait for a formal victim statement. The University of Amsterdam, the Netherlands' Ministry of Social Affairs and Employment, and Dutch bank ABN AMRO have created a one-of-a-kind partnership to analyze bank data for suspicious activity that could pinpoint human trafficking."
---
COMING UP:
Event organized by Giant Oak, Inc.
When: Thursday Sep 10, 2020, 2:00 PM - 3:00 PM CST
A live webinar with Michael Fullilove, Chief of Operations for DeliverFund, and Jordan Greenbaum, Medical Director for International Centre for Missing & Exploited Children. The panelists will discuss how human behavior, AI/ML tools, and COVID-19 relate to the battle against human trafficking
---
We hope you've enjoyed this issue of Liberty Line, a weekly newsletter dedicated to providing you with the most pertinent information surrounding the stories, initiatives, and people within the counter human trafficking and sexual exploitation movement. To learn more about the The Liberty Coalition, visit: www.thelibertycoalition.com